THIS PAGE WAS RECENTLY UPDATED BY ASHLON23 =AKA= ASHLON NIXON :)
Dagannoth Supreme is the Daggonoth King that uses a Range-based attack. His attacks can hit up to 400's and will kill you in seconds if you do not use Protect from Range/ Deflect Range. The preferrable form of combat for fighting him is melee.
Drops
| | | | | |
| --- | --- | --- | --- | --- |
| Picture | Always Drops | Amount Dropped | Price | Rarity |
| | Dagannoth Bones | 1x | 500k-800k | Always |
| | Dagannoth Hide | 1x | Junk | Always |
Items Sometimes Dropped:
| | | | |
| --- | --- | --- | --- |
| | Item | Amount Dropped | Price |
| | Archer's Ring | x1 | 10m-15m |
| | Dragon Hatchet | x1 | 500k-2m |
| | Spined Helm | x1 | Junk |
| | Spined Body | x1 | Junk |
| | Spined Chaps | x1 | Junk |
(Still undergoing some work)
How to Get to Dagonnoth Supreme
Operate or "Rub" a Games necklace (8) and select the Dungeon Teleport 2 and then click on Waterbirth Dungeon. When you Arrive at the dungeon continue throught the path to the south and then climb down the ladder after you have potted up and are ready (to be sure put on ranged prayer if at off-peak times as they are AGRESSIVE.

Equipment Your goal when fighting the Dagannoth Supreme is to have the highest Str and Accuracy bouns possible so that you are also 100% going to get the kill, as there WILL be at least 1-4 other people all fighting the Supreme at one time (during Peak Hours).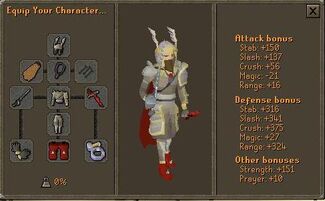 On The right is some of the best possible gear this will provide you with the most accuracy and also you allow you to hit the most. You can use Dragon claws or a Dragon Dagger as your Special Weapon
This Gear is the "Welfare" gear for the Dagannoth Supreme. However with the void knight melee helm will give you a bonus 10% damage, this however can give you the bouns damage to equal the Max gear above, but only with luck. Pick Dragon claws or a Dragon Dagger as your Special Weapon
Ad blocker interference detected!
Wikia is a free-to-use site that makes money from advertising. We have a modified experience for viewers using ad blockers

Wikia is not accessible if you've made further modifications. Remove the custom ad blocker rule(s) and the page will load as expected.