Herblore is where you can make potions to enhance your character level or to protect your character from harm in some situations.
To start Herblore in SoulSplit you need to use the
Nomal Spellbook and teleport to Neitiznot South.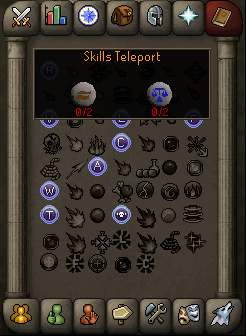 To start herblore then walk north of the fountain and trade Bob in the little house.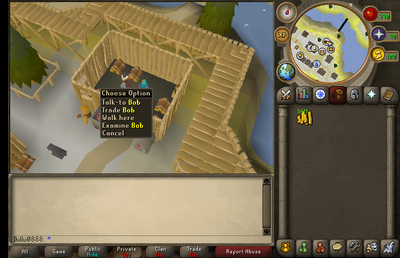 To start herblore you need the following primary and secondary ingredients as well as water vials in which to mix them in.
Level Required   Ingredients                                                             Product                                        
01.                       Vial of Water + Guam + Eye of Newt                          Attack Potion (3)

12.                       Vial of Water + Taromin + Limpwurt Root                    Strength Potion (3)


22.                       Vial of Water + Harralander + Spider Eggs                  Restore Potion (3)
26.                       Vial of Water + Harralander + Toad's Legs                   Energy Potion (3)

30.                       Vial of Water + Ranarr + Snape Grass                        Defence Potion (3)


34.                       Vial of Water + Spirit Weed + C*ckatrice                     Agility Potion (3)
38.                       Vial of Water + Wergali + Frog Spawn                         Prayer Potion (3)

40.                       Vial of Water + Irit + Eye of Newt                                Summoning Potion (3)

42.                       Vial of Water +  Wergali + Frog Spawn                        Crafting Potion (3)
45.                       Vial of Water + Irit + Eye of Newt                                 Super Attack Potion (3)

50.                       Vial of Water + Avantoe + Snape Grass                       Fishing Potion (3)

52.                       Vial of Water + Avantoe + Mort Myre Fungus                Super Energy Potion (3)

55.                       Vial of Water + Kwuarm + Limpwurt Root                     Super Strength Potion (3)

58.                       Vial of Water + Wergali + Wimpy Feather                    Fletching Potion (3)


63.                       Vial of Water + Snap Dragon + Red Spiders Egg          Super Restore Potion (3)

66.                       Vial of Water + Cadantine + White Beries                    Super Defence Potion (3)

72.                       Vial of Water + Dward Weed + Wine of Zamorak          Ranging Potion (3)

76.                       Vial of Water + Lantadyme + Potato Cactus                 Magic Brew (3)

78.                       Vial of Water + Torsol + Jangerberries                         Zamorak Brew (3)

88.                       Super Attack Potion (3) + Avantoe                               Extreme Attack Potion (3)

89.                       Super Strength Potion (3) + Dwarf Weed                     Extreme Strength Potion (3)

90.                       Super Defence Potion (3) + Lantadyme                       Extreme Defence Potion (3)

91.                       Magic Potion (3) + Ground Mud Runes                        Extreme Magic Potion (3)

92.                       Ranging Potion (3) + Five (5) Grenwall Spikes              Extreme Ranging Potion (3)

94.                       Prayer Potion (3) + Bonemeal                                     Super Prayer Potion (3)

96.                       Extreme Attack Potion (3) + Extreme Strength             Overload (3)
              Potion (3) + Extreme Defence Potion (3) + 
              Extreme Magic Potion (3) + Extreme Ranging
              Potion (3)
Water Vials can bebought for 2gp
Guam seeds cost 4g
Marrentil seeds cost 5gp
Tarromin seeds cost 7gp
Harralander seeds cost 12gp
Ranarr seeds cost 19gp
Toadflax seeds cost 34gp
Irit ,Avantoe, Kwuarm, Snapdragon, Cadantine, Lantadyme, Dwarf weed & Torstol seeds all cost 64gp
Credits go to
-zadark055
-asainganster