Welcome to the Soulsplit (RSPS) Wiki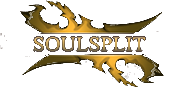 Opinion poll
How do you think SoulSplit is doing?

This wiki is about the RSPS 'Soulsplit' made by Pim.
For more information go to the website:
About
Soulsplit is a very popular Runescape Private Server (RSPS) which has over 1000 players on at all times (and still growing).
This wikia was made to let players gain knowledge about this server.

Rules: (Punishments range from a 1 day IP-Ban to a infinite IP-Ban)
Don't vandalize this page and fill it with wrong/uncurrent information, people have worked hard to make this and we don't need douches to go around deleting the hard work.
Use correct grammar and spelling when editing. Don't use abbreviations.Ex: bandos Chestplate--> Bandos Chestplate, D Dagger----> Dragon Dagger)
Respect other editors, severe flamming is not tolerated.
Latest activity